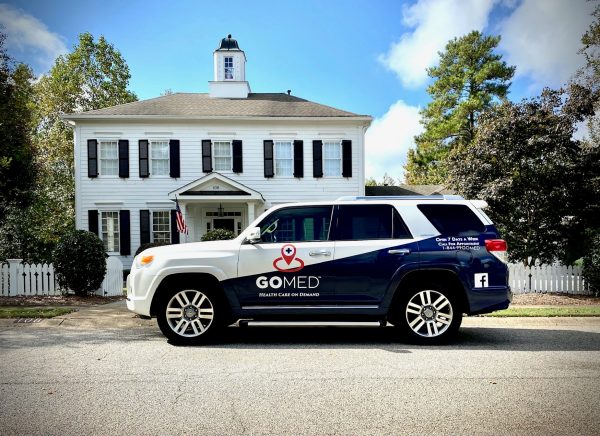 We Brought Back The House Call.
GoMed Mobile Healthcare values the health and lifestyle of each of our patients. In a society that now often measures success in how fast something can be done or if it can be done without actually interacting with a live person, we felt that a Healthcare company that tuned back the clock to a time when the convenience and one-on-one focus of your doctor existed in the experience of a house call. It may bring back memories of Old Western movies or Leave It To Beaver re-runs but we have modernized the service and have replaced the Horseback rides with our fleet of SUV's.
Our Focus Is On You
At GoMed, our focus is on creating a convenient, safe, comfortable and easy way for you and your family to get the healthcare that you need when you need it. By coming to your home or office, we keep you out of office waiting rooms and can see you or your family at home on the couch, in your kitchen or wherever you feel comfortable. With the average trip to the doctor or urgent care center taking between two and three hours, including driving time and requires families to bring the healthy kids along, by our providers coming to you we make the process of getting seen quick and easy.
We Come To You So You Don't Have To Come To Us
As you would expect, GoMed Mobile Healthcare providers come to you at your home or office. We are local to your community and are constantly on the move ready to respond to a request for care. While we are not a pharmacy, we are permitted to dispense some medications. In this regard, our providers typically can leave you with common antibiotics or steroids for a small additional fee if you require it.
Our Providers
Emergency room trained and prepared for just about anything, our providers have seen just about everything and know what we can treat and when you might need care that we can not provide. After you call or schedule your appointment, our provider will be in touch to discuss the reason for request and finalize any open details. Each of our hand picked providers are licensed and insured and offer a bedside manner that can be best described as Southern Hospitality combined with a quick whit.
We Use Technology
GoMed still takes advantage of technology to support your experience. We offer online scheduling, email and text options for staying in touch and a level of transparency through our live call center. Our belief is that technology should enhance your experience, not drive your experience. Our call center team stands by from 7:30 AM to 11:00 PM, seven days per week to assist whenever you need us.
The GoMed Team
The secret sauce of GoMed is our team. We are local to your community and from the providers to the call center employees, we strive to bring to best possible healthcare experience to all of our patients. If you can ever think of something that we can do better or if you have suggestions on how we can enhance your care, please reach our to our team at info@gomed.net or call us at 1-844-994-6633.